Sermon Palm Sunday April 14th Fr. Michael Cawthon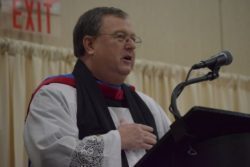 It is finished
The sermon hymn today ends with:
"It is finished!" hear him cry;
Learn of Jesus Christ / to die" (Hymn #70)
Yes my friends this Lenten Season is about "dying" in order that ye may live…
With a palm in our hands we come today celebrating the coming of our Lord into Jerusalem
and we can only do this honestly by dying unto self…
Eli, Eli, lama sabachthani ((e'-loi, e-lo'i, / la'-ma, / sa-bakh-tha'-ni):
My God, My God, why hast thou forsaken me!
Many of us are, or know someone who is, in pain: physically, spiritually or mentally.
Unfortunately those who do NOT know God,
hear these words as being of a God who is "forsaking" His only Son ,
and are turned off and want no part of such a God.
However those of God hear these words,
and we hear the message from that bloody cross, and we still hear it today.
I am going to read Psalm 22 which foretells the Passion of our Lord, I would like for you to reflect upon your own situation,
and of those whom you know and love.
Verse 1.  My God, my God, look upon me; why hast thou forsaken me? * and art so far from my health, and from the words of my complaint?
These words pressed heavily upon Jesus and upon us today:
Upon Jesus, with the burden of His "passion", as He is in physical and spiritual pain…just as are many today.
To whom does He mourn?
Does He plead to those torturing him?
NO, but to "My God, my God" does He cry aloud…
Even in suffering the consequences, of revealing the truth to all mankind, he never waivers from God,
But He calls upon Him
(as he did every hour of his life
and as we should be doing "constant in prayer."
This psalm of David, applies to Jesus as He hangs upon the cross, as it should to all of God's children who are suffering for whatever reason.
We all lament at one time or another,
because of this messy world in which we live;
but Jesus shows us,
even when we are under extreme pain and suffering,
we are never to "forsake our God" because He will never forsake us.
I continue reading the first stanza's:
2 O my God, I cry in the day-time, but thou hearest not;
(Oh yes – do you remember that wonderful woman from Canaan (whom I called Maggie):
Not heard, receiving no response … … … even ignored by the Jesus and his disciples;
yet the silence only motivated her all the more to cry aloud
"Have mercy upon me."
Silence can weaken or strengthened us as Christians,
regardless; we are to fight through all discouragements,
always moving towards our Lord through Faith.
The psalm continues:
3 And thou continuest holy,
4 Our fathers hoped in thee;
5 They called upon thee, and were holpen;
6 But as for me, I am a worm, and no man;
7 All they that see me laugh me to scorn;
8 He trusted in the LORD, that he would deliver him;
9 But thou art he that took me out of my mother's womb;
10 I have been left unto thee ever since I was born;
11 O go not from me; for trouble is hard at hand,
Here a connection is made with the psalmist (David), and the Jews,
knowing that their God was Holy,
they cried again and again unto Him and they were holpen (they were helped),
even when laughed to scorn, they trusted God … from their mother's womb He cared for them,
but yet, still trouble is at hand.
One thousand years later:
Jesus now relates as there is still suffering.
Jesus knew both extremes well, both physically (outwardly) and spiritually (inwardly) as he hung upon the cross.
He had experienced pain his entire life: from birth till death, he was sought to be killed.
We as Christians must remember, that yes, there is great joy in our faith,
and yet our sufferings sometimes may be the true connection
to our Lord,
as His suffering was above all suffering, including ours.
I continue reading:
12 Many oxen are come about me; * fat bulls of Bashan close me in on every side.
13 They gape upon me with their mouths…
14 I am poured out like water, and all my bones are out of joint; * my heart also, in the midst of my body, is even like melting wax.
15 My strength is dried up like a potsherd, and my tongue cleaveth to my gums, * and thou bringest me into the dust of death.
16 For many dogs are come about me…
17 They pierced my hands and my feet: I may tell all my bones: * they stand staring and looking upon me.
18 They part my garments among them, * and cast lots upon my vesture.
Here, Jesus is making a
testimony against the evil and sinful world,
as He, reveals the
worlds' love of sin, and of hatred.
Jesus is using
sins own works
against Satan Himself.
By words of Holy Scriptures, written some 1000 years earlier, Jesus is drawing attention to the
True and Living God.
Do you see the picture?
Jesus is the picture drawn by this psalmist
some one thousand years before hand:
those who have eyes, let them see; and ears, let them hear.
Jesus is abandoned by most of his friends (even his own disciples);
and is being insulted by the bulls of Bashan – fat and fed … to the full,
for such were the chief priest and elders that persecuted Christ, who assembled over and over and plotted against him.
And still David did write:
"Thy pierced my hands and my feet."
This psalm is exact in its fulfillment,
As His bones are pulled out of joint.
The Lord brought down into the dust of death,
as his tongue cleaveth to his gum.
But as well from that same cross
we see an image of His arms opened to those who love Him,
as if He is robing us in a seamless woven robe which is His own righteousness.
I continue:
19 But be not thou far from me, O LORD;
20 Deliver my soul from the sword,
21 Save me from the lion's mouth;
22 I will declare thy Name unto my brethren;
23 O praise the LORD, ye that fear him:
24 For he hath not despised nor abhorred the low estate of the poor;
25 My praise is of thee in the great congregation;
26 The poor shall eat, … be satisfied … and praise him:
27 All the ends of the world … shall be turned unto the LORD;
28 For the kingdom IS THE LORD'S!
He invites you into His Kingdom, will you enter?
This psalm which started in pain, ends with perfect Joy.
30 All they that go down into the dust shall kneel before him; * and no man hath quickened his own soul.
31 My seed shall serve him: * they shall be counted unto the Lord for a generation.
32 They … shall declare his righteousness …
* unto a people that shall be born…
My brothers and sisters:
He hath made you!
He has redeemed you!
He has prepared a place for you.
Hear His voice / and Enter:
Listen to his calm and loving words as he simply says
"Come unto me!"
The hour cometh and now is….