Many people lived through the changes in the church beginning in the 60's and became frustrated, saddened, and deeply hurt with the many changes within the Church. In the United States changes to doctrines and interpretations of Scripture started to be preached within Anglicanism and discipline was lost. As the new 1979 Book of Common Prayer was introduced many people began to feel abandoned by the faith of their Fathers as they saw a once wonderful faith abandoned. St. Michael the Archangel is committed to the Church doctrines and interpretations established by the first generations of Christians; as defined in the Creeds, the early Church Fathers, and the Canonized Scriptures as defined by the early church itself.
While there are denomination variances in doctrines and in scripture interpretation, which sadly divide Christians, all Christians are united through our Lord and Saviour Jesus Christ and we must move forward in "charity" one to another while boldly and clearly proclaiming the name of Jesus Christ to the world.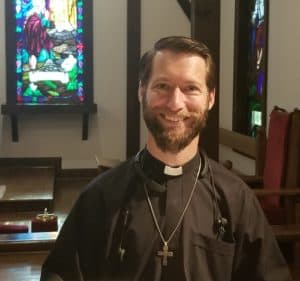 Effective January 1, 2023 Fr. Allen becomes the Rector.  Fr. Allen Fisher has been the Curate for over the past two and half years.  Fr. Allen and his family are originally from Louisiana and moved here from Atlanta.  Ordained a Deacon in 2011 and ordained Priest in 2012, Before coming to St. Michael's, Fr. Allen served as rector for St. Francis Anglican Church and devoted himself to several ministries including ministering to those home-bound and in hospitals and leading Bible studies in Atlanta homeless camps.Fr. Allen married his wife Kasey in 2006 and they have two boys, Noah and Lucas.
Fr. Michael Cawthon
Retired Priest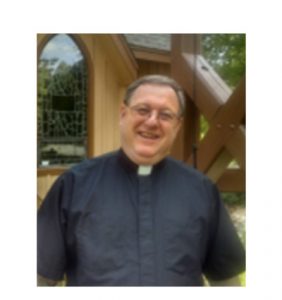 Fr. Michael spent over 30 years in the steel industry (from loading trucks to leading a great company) and realized that his life had an emptiness that could only be filled by serving more fully his Lord. After spending years at St. Michael's as a parishioner, and serving on its "Vestries" and as "Sr. Warden" while performing yard maintenance (oh- how he loved his John Deere), he finally entered into the Province's Discernment program, which changed his life forever. After "discernment" Mike moved into the Postulant Program for the Anglican Province of America.
While continuing work within the secular world, Mike obtained a Master's Degree from the Reformed Theological Seminary, Master of Arts, Religion; thus, "Mike" then became known as Fr. "Michael" once ordained a Deacon in 2013.  Being Priested in 2014, he was instituted as the Rector of St. Michael the Archangel in 2015.
Fr. Michael has been married for over 50 years to his High School Sweetheart, Ms. Debbie Ray Cawthon. God has blessed them with two sons and three grandchildren.
Staff
Our Priests and Parish are assisted by many people.
Deaconess: Tina Jenkins (APA Sr.) and Debbie Kidd are both set aside to work with our clergy and laity and they both are a great asset to our St. Michael's family.
Dss. Elizabeth "Tina" Jenkins:
   Dss. Tina was Set Apart to the Ministry of Deaconess on July 23, 1998 by Bishop Walter H. Grundorf during a synod at St. Paul's Anglican Church in Melbourne Florida.  She is assigned to St. Michael's Traditional Anglican Church in Charlotte NC.  For the APA she has functioned as a cofounder of the annual children's camp, the Foreign Missions Ministry and the Deaconess Ministry.  She was a member of the APA Standing Committee, the Coordinator of the 2018 APA synod and has organized the APA Annual Women's Retreat for over 20 years.  She currently fills the role of APA Sr. Deaconess and is on the Foreign Missions Board.  In 2016 she was selected to be a member of the APA Companions of St. George, the provincial service award for laity.  Dss. Tina has been at St. Michael's since the mid 1980's and she maintains an active role in pastoral care, teaching and project administration.  She has been a Sr. Warden twice and is currently acting as interim Chairman of the ladies St. Martha's Guild.
DSS. DEBORAH "DEBBIE" KIDD 
Debbie was Set Apart as Deaconess by the Most Rev. Walter H. Grundorf, DD, Bishop, APA Diocese of the Eastern United States, on All Saints' Day, 2007, at the Anglican Church of St. George the Martyr, Simpsonville, SC.  Her training during 2004-2007 to become a deaconess included a year of discernment, a two-year catechist course at The Anglican Institute for Lay Ministries at All Saints Anglican Church, Mills River (then Arden), NC, a two-year program at the Redeemer Biblical Counseling Training Institute, Redeemer Presbyterian Church, Duncan, SC, and regularly meeting with her Rector to prepare for both oral and written examinations.  She served as Deaconess at St. George the Martyr until May 2020, at which time her ministry was transferred to St. Michael the Archangel Anglican Church and she moved to Rock Hill, SC, to be close to her son Danny.  She was married for 49 years to Dan Kidd, who passed away in September 2016.
Dss. Debbie's ministry has been varied but has primarily included Parish Librarian responsibilities, administrative duties, intercessory prayer, and working with women in the areas of Bible study, informal counseling and pastoral care.  She has served several terms as Secretary of the Standing Committee of the APA Diocese of the Eastern United States and is currently serving as Secretary of St. Martha's Guild at St. Michael's. She was appointed Laity Representative on the APA Provincial Court of Review.  Her favorite Bible verse is Philippians 4:8.
Administration Secretary:  Susan Stepp
Music Director: D. John Apple, Organist and Choir Master.
Outreach Programs: Dame Martin & Joyce Allen.