Musical Notes for Forth Sunday after Easter May 19 201sica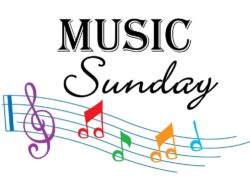 Musical Notes for Forth Sunday after Easter May 19 2019
St. Michael the Archangel www.stmichaelsanglican.org
Prelude                                Fugue in D           J. S. Bach
A fugue is defined as a composition in which a theme is introduced in one part and imitated at different pitch levels. This fugue is one of a number of pieces attributed to Johann Sebastian Bach (1685-1750) for which no autograph manuscript survives.
Introit
(Psalm 98:1-2)  O sing unto the Lord a new song; for He hath done marvellous things. The Lord hath made known His salvation: His righteousness hath He openly showed in the sight of the heathen. His right hand, and His holy arm, hath gotten Him the victory.
As during Lent, each Sunday in Eastertide has a Latin name from the first words of the Introit. The name for the Fourth Sunday of Easter is Cantate, taken from Psalm 98:1: "Cantate Domino canticum novum."
Offertory
(Psalm 66:1-2a, 16) Make a joyful noise unto God, all ye lands:  sing forth the honor of His name, come and hear, all ye that fear God, and I will declare what he hath done for my soul.
Schmücke dich, o liebe Seele      Johannes Brahms
Brahms (1833-1897), German composer of symphonies, choral and piano music, wrote his piece on the 17th century Lutheran communion hymn (#210 in The Hymnal 1940) in a group of 11 organ preludes during his last year.
Postlude              Laudation            Gilbert M. Martin
Gilbert M. Martin (b.1941), graduate of Westminster Choir College (John Apple's alma mater) and composer of organ and choral music, wrote this joyful piece with the title from the Latin word for "praise."