Church Bulletin (blog edition) Trinity 8
St. Michael the Archangel
Anglican Church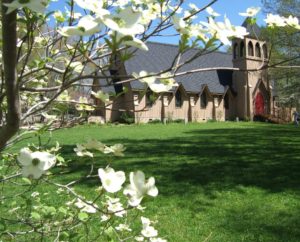 Visitors – Welcome!
Peace and joy in our Lord and Saviour Jesus Christ.  Please advise us of your visit and ask for a "First Time Visitor Bulletin" which briefly explains the communion service.  Please join our church family in the Parish Hall after the service for fellowship, drinks, and food.
Holy Communion:
If you have been confirmed by a Bishop in Apostolic Succession, you are invited to receive the Blessed Sacrament.  If not, but are a Baptized Christian, please come to the Altar Rail for a blessing (simply cross your arms over your chest when the Celebrant approaches.)  If you have questions, please speak to the clergy.
Eighth Sunday after Trinity
August 11, 2019
H= 1940 Hymnal (Hymn number) AND B = 1928 Book of Common Prayer Page number.
Stand    Processional: Hymn number 474
Kneel    Collect for Purity: Book of Common Prayer Page 67
Kneel    Introit: Choir   B70
Kneel    Collect for the Day: B 199
Sit           Psalm: 119: 33 – 48: B 492
Sit           Epistle:  ROMANS  VIII:  12; B 200
Stand    Gradual: H 463
Stand    Gospel:  ST. MATTHEW  VII:  15; B 200
Stand    Nicene Creed: B 71
Sit           Notices
Stand    Sermon Hymn: H 317
Sit           Sermon  (Fr. Michael)
Sit           Alms Collection & Offertory Sentence (Choir)
Stand    Alms Presentation, National Hymn                          139 / 141 (v4)
Kneel    Biddings & Intercessions (said by celebrant)
Kneel    For the Whole State of Christ's Church: B 74
Kneel    Invitation and General Confession: B 75
Kneel    Absolution & Comfortable Words: B 76
Kneel    Sursum Corda & Sanctus: H  796 or B 76
Kneel    Consecration: B 80
Kneel    Lord's Prayer: H 722 or B 82
Kneel    Humble Access: B 82
Kneel    Agnus Dei: B 712
Ecce Agnus PRIEST: "Behold the Lamb of God, behold him that     takest away the sins of the world.  Lord I am not worthy that thou shouldest come under my roof;"
People—"But speak the word only and my soul shall be healed."
Kneel    Communion Hymns: H 302, 189
Kneel    Thanksgiving: B 83
Stand    Gloria in Excelsis: H  713 or B 84
Kneel    The Blessing: B 84
Kneel    Dresden Amen  (followed by bells): H 740
Stand    Recessional: H 499
Nursery is available for children 5 years and under during the 10:30am service
Acknowledgements and Thanksgivings!
SANCTUARY CANDLE:  Burns this week to the glory of God.
ALTAR FLOWERS:  Are given to the glory of God by Roger & Virginia Gayle Anderson.
Please come next door to the Parish Hall, after the 10:30 service for fellowship and refreshments.
NEWS AND NOTES:
AUGUST  CHANGE-FOR-CHANGE:   Hospice of Charlotte
AIR CONDITIONER UPDATE:
Costs:     $30,935
Donations to Date:        20,920
MEN'S MINISTRY:   Auto-Bell Car Wash tickets available now:  $20.00 each or 3 for $40.00. Limited supply.  Get yours before they are gone.
COMMUNION WAFERS:  If you prefer a Gluten free consecrated wafer, please let the priest know when you come to the altar.
MICHAEL'S SOCIAL GROUP: SMSG is open to any adult wanting to better connect with fellow parishioners outside of Sundays. We are looking to explore what Charlotte has to offer (Dining, cultural events, concerts, etc….  events which are fun and economical),  seek new adventures or just hang out!
NEW SIGN-UP SHEETS:  Do you want to be an usher?  You are needed.  Sign-up today for either 8 am or 10:30!  If you are an usher, Thank You! and please put your name on the list.
ALTAR GUILD:  Altar Guild members have a mandatory training on September 9th at 9 am.  All interested persons that are looking for a way to serve God and His Church are invited to attend the training.
MUSIC NOTES
Prelude                                                Choral Song                          Samuel Sebastian Wesley
Introit
(Psalm 48:9-10) We have thought of Thy lovingkindness, O God, in the midst of Thy temple. According to Thy Name, O God, so is Thy praise unto the ends of the earth: Thy right hand is full of righteousness. (Psalm 48:1) Great is the Lord, and greatly to be praised: in the city of our God, in the mountain of His holiness.
The Gradual Hymn #463 is a poem from 1762 by Charles Wesley, based on Leviticus 6:13: "The fire shall ever be burning upon the altar; it shall never go out." The tune is by his grandson Samuel Sebastian Wesley (1810-1876), prominent organist, composer and church music reformer.
Offertory
(Psalm 18:27, 31a) For Thou wilt save the afflicted prophet; but wilt bring down high looks.  For who is God, save the Lord?
Anthem                               My Spirit Longs for Thee                  Richard Shephard
My spirit longs for Thee within my troubled breast,
Though I unworthy be of so divine a guest.
Yet has my heart no rest, unless it come from Thee.
In vain I look around: In all that I can see
No rest is to be found, but in Thy blessed love.
O let my wish be crowned, and send it from above!
Richard Shephard (b.1949), choral/opera/orchestral composer and Chamberlain of York Minster, set this poem (related to the Scripture readings today) by John Byrom (1692-1763), English poet (including Hymn #16). Byrom was the inventor of a system of shorthand and teacher of John and Charles Wesley, Anglican priests who began the Methodist movement.
Postlude                              March in G                                                          J. B. Cramer
Johann Baptist Cramer (1771-1858), German-born Englishman who, alongside Beethoven, was considered the greatest pianist of his time. The organ  arrangement is by Frank Asper (1892-1973), Mormon Tabernacle organist.
PARISH PRAYER LIST
✟The Anglican Church: Our St. Michael's family, Deanery, Diocese, Anglican Province of America, Anglican Catholic Church, Anglican Church in America, Deus of the Holy Cross, our Bishops, Rector, Clergy & their families, and that many men are called to the sacred Ministry.
✟ Our Country, its Leaders, Fire and Police Departments & those in military service: Andrew, Adam, Edwin, Daniel, Mark, Conner, Caleb, Dannte, Brian, Dustin, Brett, Kegan, Charles, Robert, James, Gavyn, Joe, Luke.
✟Pregnancy: Brook, Jackie
✟ Those Traveling: Ralph, Scott, Dana, Frank, Lee, Tony, Jeff, Stephen, Nance, Mike, Kristin, Will, Phyllis, Louise, Chipo, Becks, Thandvve.
✟Guidance & Protection: Destinn, Conner, Donald, Christopher, Karl, Phyllis, Dame, Kristin, Blonnie, Tommy, Linda, Claude, Ben, Henry, Mary, Josiah, Stoch, Roy, Brett, Kelechi, Christopher, Margaret, Henry, Tom, Nick, Betty, Martha, David, Phillipa, Rosanna, Lizzy. The Washburn, Burgess, Drake, Oldfield, Howard, Morton, Graham, Wilkerson, Amara, Jones, Runyan, Mkandla families.
✟ In Affliction: Jerry, June, Roger, Virginia Gayle, Trudy, Pat, Wayne, Harry, Edna, Pat, Rich+, John, Doreen, Desmond, Yvonne, Dame, Meredith, Jennifer, Janet, Robert, Runyan, Vivian. Wanda, Shannon, Marie, George.
✟The Lord's Healing: Aurora, Ava, Ana, Thomas, Natalia Tina, Nick, Simeon, McKenzie, Pat, Seth, Stephen, Sarah, Marie, Phillip, Savana, Renee, Samantha, Madonna, Tenneh, James, Jeannie, Brock, Trudy, Wendy, Amanda, Hazel, Carl, Laurna, Holly, Phyllis, Kevin+, George+, +Jack, Michael+, Dennis+.
✟R.I.P.     Stephen Chifunyise
… Upcoming Events:
Aug        9-16                                       Fr. Michael's vacation
17           11:30 am              Men's Ministry
20           1 pm                      Ladies Lunch-Out @ Shanes
24           8 am                      Youth Group – Tubing
28           7 pm                      Bible Study:  Gospel of Luke
29           9 – 11:30              Preschool Open House
6 pm                      Men's Night-Out:  "What Ale's You!"
31           9 – 11 am             Workday
SCHEDULE FOR NEXT WEEK:      July 8, 2018
Nursery:   10:15 am         Help needed
Ushers:      8 am                 Bob & Betty Self
10:15 am         Dame Martin, Tommy Johnson
Altar Guild:                         Debbie Cawthon
PRESCHOOL SUPPLY NEEDS:
Play-doh, Construction paper (sizes 9×12 & 12×18), White and colored card stock, Hot glue sticks (for glue guns), Paint brushes, Watercolors paint, Paper towels,  Paper plates (non- styrofoam), Liquid glue, Tape (duct and clear scotch), Small dry erase boards and dry erase markers, Hand sanitizer (pocket size), Kleenex, Sidewalk chalk, Bubbles with wands, Mr. Klein Magic Erasers, Ziplock bags (gallon and sandwich size)
Dear ladies,
The response to this year's retreat has been swift and strong.   We are a full house so I am now starting a waiting list for any registration forms I receive after today.  Please help by telling anyone that you think was interested but has not yet registered.  God's many blessings to you all.
In His Service,
Dss. Tina Jenkins
SUNDAY SCHOOL
Sunday School will be starting September 8th.  Please use the insert in the bulletin to register your children. It is very important for you and your children to make the time to attend Sunday school.  Randall Burgess will be leading the Adult in the Parish Hall (Book of Job and Problem with Pain (C.S. Lewis,) Margie Schlier will be leading the Young Children Class (learning about the Apostles), and Fr. Michael will be leading the Older Children's class.  Everyone should be in Sunday School.
BIRTHDAYS
Aug          11         Brett Ford
Aug        12           Carter Eldridge
Aug        13           Betty Self
Aug        15           Okenna Ihedaire
Church Services & Key Activities the week of August 11th:
Sun:        8 am       Said Eucharist                       10:30 am   Sung Eucharist
Mon:      6 pm       Ladies Evening Prayer
Tue:        7 pm       Choir Practice
Wed:       6 pm       Evening Prayer
Thu:        Noon      Eucharist / Fellowship
Sat:         11:30 am                                Men's Ministry (Fr. Michael will be there – all as before.)
The Vestry:
Sr. Warden:  Ed Stemborowski                         Jr. Warden:  Brett Ford
Carol Alsis                  '21         Laurna Blackwood   '20          Margie Schlier                 '19
Frank Ihekaire            '21         Randall Burgess        '20          Brett Ford                        '19
Sylvia Jack                   '21         Pam Driscoll              '20         Michelle Montgomery   '19
Eastern Diocese of the Anglican Province of America:
The Most Rev. W. H. Grundorf, Diocesan
The Rt. Rev. Chad Jones, Bishop Coadjutor
The Rt. Rev. Bill Perkins, Suffragan Bishop
The Rt. Rev. David Haines, Missionary Bishop
The Rev. O. Michael Cawthon, Rector
The Very Rev. Can George Harding, Ret.
Dss. Tina Jenkins, APA Sr. Deaconess
John Apple,  Organist & Choir Master
Shonika Bankole,  Preschool Director
Lou Hale, Phyllis Vail, Sandra Scherer, & Susan Stepp:  Bible Women
Dame Martin & Joyce Allen:  Outreach Programs
Susan Stepp & Sandra Scherer:  Worship Preparation
Church office:  704-537-7777     Rectory:  704-531-9306
www.stmichaelsanglican.org                 stmichaelcharlotte@yahoo.com
Rector:  Fr. Michael's Cell:  704-651-9070      frmichaelcawthon@gmail.com
St. Michael's:  2211 Margaret Wallace Road, Matthews, NC 28105