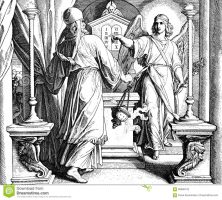 ADVENT
The Rev'd. Stephan W. Heimann
The Very Rev'd Richard E Backley
The Season of Advent, which begins our Christian Year, has an interesting history. We have to understand, first of all, that the very early Christian Church did not put the emphasis on Christmas that we do today. The principal celebration of this time of year was Epiphany, celebrated on January 6, and chiefly a celebration of our Lord's Baptism (which is why the figure of John the Baptizer figures so prominently into our Advent celebration) and the Wedding Miracle at Cana. At that time, the Christian Year actually began with Easter.
Advent was instituted in the 4th century, before the celebration of Christmas began. It was a penitential season, in which baptismal candidates prepared for their initiation into the Christian Church on Epiphany.
When Christmas began to be celebrated liturgically on December 25th (a date based upon early Christian teachings such as Hippolytus' commentary on Daniel written nearly a century before the pagan "Birthday of the Sun" was instituted in 274), Advent became a time of preparation for the great celebration of "the Word made flesh to dwell with us."
Two Advent traditions lend beautiful observance to this celebration. The Advent Wreath, with its progressive lighting of candles – a new one each week as Christmas draws nearer – reminds us of the gradual enlightening of the Old Testament world, as God prepared His creation for the coming of the Savior. The Jesse Tree, on which we trace   the lineage of our Lord with figures, scripture readings, poetry, and prayers, reminds us of the ancestry of God's people, of which we are a part, and our status as adopted children of God by virtue of the grace of Jesus Christ.
At a later time, the Season of Advent took on yet another significance – the preparation of our hearts, minds, and lives for the Second Coming of Christ in judgment, and the consummation of the Kingdom of God.
There is a decided need to reclaim the real meaning of Advent today, because far too much of our time during Advent is taken up with "getting ready for Christmas" which tends to mean (for our society and too often for us) celebrating Christmas from Thanksgiving to December 25th. With a little perspective, we can turn our "Christmas preparation mentality" into a devout keeping of the Advent Season as it should be kept.
As we celebrate Christmas, and as we rejoice in the miracle of the Incarnation – when God became a human being in the Person of Jesus – we need to remember what the Apostle and Evangelist St. John wrote about His first coming among us:
"He was in the world, and the world was made by Him, and the world knew Him not. He came into His own, and His own received Him not."                                         John 1:10-11
Our Lord still comes to us in a variety of ways. He comes in His Word, to enlighten, inspire, and direct us by the words of the Bible. He come to us in the Sacraments, particularly in the Holy Eucharist, to give us grace (character and strength) to "live a new life, following the commandments of God, and walking from henceforth in His holy ways." He comes in the keeping of the Christian Year, as each event in our Lord's Life parallels events in our lives. He comes to us in opportunities for love and service – to our neighbor, to the Church, and to missions; reminding us that we are His Body – the extension of the Incarnation and of Pentecost – in the world today.
Advent is a time for us to examine how we respond to these "comings" – how prepared (or not) we are to welcome Him into our presence, and make the most of every opportunity His coming makes possible for us. Far too often, what he finds in us is that same condition He found in the Temple, of which, we read in the Prayer Book Gospel lesson for the First Sunday in Advent.
He often finds us too eager to perpetuate the status quo and not willing to allow the changes in our lives He must bring in order to help us serve Him and His Gospel better. He finds us seldom, if ever, studying our Bibles, and even more rarely "reading, learning, marking, and inwardly digesting" what we find there. He finds us not willing to "truly and earnestly repent of our sins, live in love and charity with our neighbors, and to lead a new life…" He finds us enjoying the formality of our religion, and the times of celebration, without letting what we celebrate impact the way we live, love, and relate. He finds us prideful, callous, studiously-neglectful, and cruel when it comes to the needs of our brothers and sisters, and of the Church.
And so, in one sense, Advent is a time for us to allow Him to do to our lives what He did in the Temple – turn everything upside down that is not according to His will and purpose for us. Advent, is a time to conduct a self-examination, and to own up to the ways we have neglected and rejected Him in our lives, preparing spiritually, in positive ways, for the "God-Made-Man." By so doing, we are ready to welcome Him not only at Christmas (which will take on a new and more beautiful meaning if we do this), but in all the other ways He comes to us in the course of the year ahead, and the days and years of our lives.
Also, as mentioned earlier, Advent is a time which we look for "His coming again in power and great glory; to judge both the quick (living) and the dead, whose Kingdom shall have no end."
There is in Christianity today, especially among evangelical Protestants, a great deal of speculation about the "end times," and there have been many books written about those times, in which the authors attempt to decide for themselves, and convince us of the truth of their interpretations of such books as Daniel and Revelation. These folks, no matter how well meaning they are, forget the admonition that Jesus gave to His disciples just before He ascended into Heaven.
They also asked about the restoration of the Kingdom, and He replied:
"It is not for you to know the times or the seasons, which the Father has put to His own power, but ye shall… be witness unto Me… unto the uttermost parts of the world."
– Acts 1:7-8
The Gospel according to Matthew records three parables which are valuable lessons to learn about our preparation for the Second Coming of Christ. According to the 25th chapter of the Gospel account, the three best ways to prepare for Christ's Coming again are (1) taking advantage of every opportunity to receive grace (vss.1-13); (2) making the best proper use of the talents, resources, and abilities God has given us (vss.14-30); and (3) by seeing Christ in the faces of our brothers and sisters in need (vss.31-46).
If we apply the lessons and the spiritual observance of Advent to our daily lives, we will have no need to, and no time to, speculate about the Second Coming of Christ. We will be too busy and totally satisfied with doing our part in building within and preparing for His Kingdom here and now. The Coming of Christ will be a joyous time, one to which we can look forward to with hope and great expectations, for it will continue forever, the Rule of Christ which we have allowed to dominate our hearts "now in the time of this mortal life, in which Thy Son Jesus Christ was content to come with great humility."
For Further Reading Consider:
William Tighe, "Calculating Christmas: The Story Behind December 25" Touchstone Magazine (December, 2003).
Thomas J. Talley, The Origins of the Liturgical Year (The Liturgical Press, 1991).
Kenneth N. Myers, The End is Near… Or Maybe Not.