Sermon Easter 4 May 19 2019 Fr. Michael Cawthon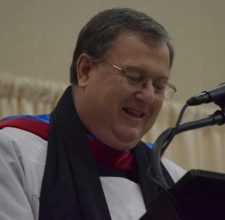 Sermon Easter 4
Homily given can be seen on live stream from our website at 10:30 am:
Outline:
Expedient that I go away
Sorrow hath filled you hearts
Another Comforter – a Dove?
The importance of the Spirit (the purpose)
It's job:      To reprove (reprimand, rebuke, criticize
To Convince (put to silence false doctrines via Truth
In all places, in all times, in all hearts
Preparing for the coming of Holy Spirit
PRAYER /  WORD / SACRAMENT
All Three – as an artery to convey the spirit to us
I did not use the below….pondered upon…and decided upon a homily instead…
I am confused, my head hurts…this being a Christian, can be a challenge:
It is expedient for you that I go away—
These words lead me to say:
My Saviour can it ever be?
That I should gain by losing thee????
On the surface, the answer to that question is Yes.
During the past six months we have had major themes of:
Of preparation during Advent,
Of God's love for each and every one of you, during the Incarnation of our Lord (during the Christmas Season),
Of Jesus being for "all men" during Epiphany,
Of "softening of hearts" during the Lenten season to prepare a good and firm ground from which Lord can could grow within each of us,
Of rising with Him on Easter morning,
and what "that rising" really means to each of us,
And after all of this…
we come to these heavy words in the Gospel this morning:
He is leaving us again as.
(we now know that He will ascend to the father's right hand and make intersessional prayers for each of us.)
But because He have said these things. . . sorrow hath filled our hearts—
Is it not true that we often ponder upon things of sorrow and guilt,
allowing our heart to be filled with sorrow and guilt.
But our God is a great God:
Mercifully; often He deals not with us according to the folly of our own choice, but graciously over-rules, because he knows it is good for us.
for if I go not away, the Comforter will not come unto you, but if I depart, I will send him unto you
While he was with them, he bore the shock of the world's malice, and stood in the front of the battle;
against him the powers of darkness levelled all their force;
but we find that from the beginning Jesus tells and try's to prepare his disciples, and us, for the future sufferings.
ANOTHER COMFORTER? 
What, was another Dove going to descend and speak to them (remember the Baptism of Jesus?…)
Would they be following a Dove – a comforter- what did that mean?
He was with them to instruct, guide, and comfort them, so they needed not the promise of the Spirit's extraordinary presence.
The children of the bride-chamber would not have so much need of a comforter till the bridegroom should be taken away.
Now; He will depart for the purpose of sending the Holy Ghost to them.
Expressed another way: If I go not away, the Comforter will not come.
The glorified Redeemer is not unmindful of his church on earth, nor will ever leave it without its necessary supports.
While his bodily presence could be put in one place at one time,
the Spirit; in all placess, at all times,
you know…wherever… two or three are gathered in his name.
Christ's bodily presence draws men's eyes, his Spirit draws their hearts.
The coming of the Spirit was absolutely necessary to the carrying on of Christ's interests on earth (v. 8).
The offices of the Spirit are:
(1.) To reprove (reprimand, rebuke, criticize.) The Spirit, by the word and conscience, is a reprove and ministers are reprovers by their office.
(2.) To convince.  "He is to put to silence the adversaries by maintaining the truth.
(3.) To convince in the world, some in every age, in every place.
On the day, when the spirit came they were in one accord:
and three things they relied upon,
In Prayer, In Word, In Sacrament.
These three things we are to use in coming to our Lord.
Prayer – Prayer – Prayer…
Alone and in communion prayer to our Lord is to be constant – unending, we are to be with our Lord constantly, in all that we do.
So important that when the disciples asked Jesus how to pray –  He told…
Our Father…ours as brothers and sisters in Christ.
In Word –  they were "steadfast" in doctrine and fellowship (self-interpretation not, but in communion and fellowship of all.
Christians together in Prayer and Word, together in union.
Breaking of bread, continuing daily with one accord.
The Eucharist has from the foundation of the Church, fed and cleansed the body of Christ:
Prayer – often your knees will painfully remind you of your prayer time within your lord while in prayer,
Word – constantly on our lips as we read daily Old and New Testament,
Breaking of bread often…
Why has our Lord given these three things?
Why is the Spirit being sent to us?  By what mode does He travel and exists?
Prayer, Word, and Sacrament…
Howsoever it be, if these three,
Prayer, 2. the Word, 3. the Sacraments,
be every one of them
as an artery
to convey the Spirit into us,
well may we hope, if we use them all three,
we shall be in a good way to speed of our desires.
For many times we miss, when we use this one or that alone;
where, it may well be God has appointed to give it us by neither,
but by the third.
It is not for us to limit or appoint Him, how, or by what way,
Come Lord Jesus – Feed us Spirit – always keeping us in
Prayer, Word, and Sacrament.