Readings for Sept. 1 2019 – Trinity 11
Our readings for Trinity 11 –  can you see the connection with last weeks readings?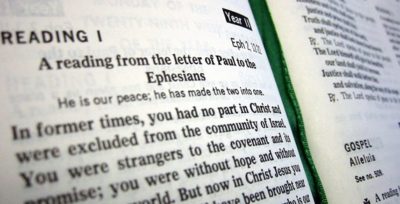 The Collect: O GOD, who declarest thy almighty
power chiefly in showing mercy and pity; Mercifully grant unto us such a measure of thy grace, that we, running the way of thy commandments, may obtain thy gracious promises, and be made partakers of thy heavenly treasure; through Jesus Christ our Lord. Amen. 
The Epistle: 1 Corinthians xv. 1.BRETHREN, I declare unto you the gospel which I preached unto you, which also ye have received, and wherein ye stand; by which also ye are saved, if ye keep in memory what I preached unto you, unless ye have believed in vain. For I delivered unto you first of all that which I also received, how that Christ died for our sins according to the scriptures; and that he was buried, and that he rose again the third day according to the scriptures: and that he was seen of Cephas, then of the twelve: after that, he was seen of above five hundred brethren at once; of whom the greater part remain unto this present, but some are fallen asleep. After that, he was seen of James; then of all the apostles. And last of all he was seen of me also, as of one born out of due time. For I am the least of the apostles, that am not meet to be called an apostle, because I persecuted the church of God. But by the grace of God I am what I am: and his grace which was bestowed upon me was not in vain; but I laboured more abundantly than they all: yet not I, but the grace of God which was with me. Therefore whether it were I or they, so we preach, and so ye believed. 
The Gospel: St. Luke xviii. 9. JESUS spake this parable unto certain which trusted in themselves that they were righteous, and despised others: Two men went up into the temple to pray; the one a Pharisee, and the other a publican. The Pharisee stood and prayed thus with himself, God, I thank thee, that I am not as other men are, extortioners, unjust, adulterers, or even as this publican. I fast twice in the week, I give tithes of all that I possess. And the publican, standing afar off, would not lift up so much as his eyes unto heaven, but smote upon his breast, saying, God be merciful to me a sinner. I tell you, this man went down to his house justified rather than the other: for every one that exalteth himself shall be abased; and he that humbleth himself shall be exalted.