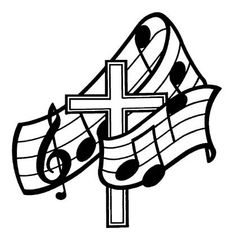 July 28, Trinity 6
Prelude   Variations to the Sicilian Hymn       Benjamin Carr
The recessional hymn today (#489) is a combination of Italian, English and American origins. The tune, a possible Sicilian 18th century
folksong sung by Italian mariners, is usually paired with the Latin Marian hymn "O sanctissima" and was first published in Philadelphia in
1794. The text "Lord, dismiss us" (by John Fawcett, author of "Blest be the tie") is from a 1773 English hymnal. The organ variations are by
Benjamin Carr (1768-1831), an English musician who was a composer and organist in New York and Philadelphia.
Introit
(Psalm 28:8-9)  The Lord is the strength of His people: He is the saving strength of His anointed. Save Thy people, and bless Thine
inheritance: feed them also, and lift them up forever. (Psalm 28:1) Unto Thee will I cry, O Lord, my rock; be not silent to me: lest, if Thou be
silent to me, I become like them that go down into the pit.
Offertory
(Psalm 17:5, 6b-7a) Hold up my goings in Thy paths, that my footsteps slip not. Show Thy marvellous lovingkindness, O Thou that savest by Thy
right hand them which put their trust in Thee.
Nun danket alle Gott            A. W. Leupold
Anton Wilhelm Leupold (1868-1940), organist for 40 years at St. Peter's Church in Berlin, wrote his prelude on the 17th century German hymn "Now
thank we all our God" (the processional hymn today) with the melody in the pedals.
Postlude        Postlude on "Sicilian Mariners"         Alfred V. Fedak
Alfred Fedak (b.1953), organ/choral composer and Minister of Music and Arts at Westminster Presbyterian Church on Capitol Hill in Albany, New
York, wrote his piece on the recessional hymn today.
The book of Psalms is the hymnal of the Bible, containing poetry intended to be sung. The music that is being used is a method of singing non-metrical texts, known as Anglican chant. (Anglican chant began in churches during the 16th century English Reformation as an outgrowth of plainchant for singing Scriptural and liturgical texts.) The Psalm for today is being sung by the congregation using a total of three notes. The technique is chanting in speech rhythm on a single pitch to a second adjacent pitch on the last word at the end of the phrase (the asterisk or the end of the verse). The odd-numbered verses ascend in pitch; the even-numbered verses descend.