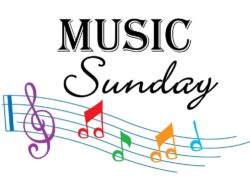 Musical Notes
For June 9  Whitsunday (Pentecost)
Prelude:  Komm, Gott, Schöpfer, heiliger Geist    J. S. Bach
Johann Sebastian Bach (1685-1750), German Baroque composer and organist, wrote his setting of the chorale Komm, Gott Schöpfer with the tune in the soprano and afterwards in the bass. This 16th century tune is a simplified adaptation by Martin Luther of the chant Veni Creator Spiritus.
 Introit: 
The Spirit of the Lord filleth the world: Hallelujah. (Psalm 68:3) Let the righteous be glad; let them rejoice before God: yea, let them exceedingly rejoice. Hallelujah. (Psalm 68:1) Let God arise, let His enemies be scattered: let them also that hate Him flee before Him.
Offertory:
(Psalm 68:28b-29) Strengthen, O God, that which Thou hast wrought for us. Because of Thy temple at Jerusalem shall kings bring presents unto Thee.
Veni Creator Spiritus                      Alec Wyton/Malcolm Archer
The communion hymn #217, the chant Veni Creator Spiritus (Come, Holy Ghost), is attributed to the ninth century German Benedictine monk Rhabanus Maurus. It is associated with Pentecost (Whitsunday) and with ordinations. Alec Wyton (1921-2007) created this meditative setting while organist-choirmaster at New York's Cathedral of St. John the Divine. Malcolm Archer (b.1952), English organ/choral composer, was organist/director at Wells Cathedral and St. Paul's Cathedral.
Postlude:
Postlude on "Salve feste dies"                  Charles Callahan
The processional hymn "Hail thee, festival day" (whose Latin title is in the Prelude) is a 6th century Latin poem with verses appropriate for Easter, Ascension and Pentecost. The author is Venatius Honorius Fortunatus, an Italian priest and bishop of Poitiers, France. Charles Callahan (b.1951), Vermont choral/organ composer, uses the refrain in his concluding piece in his set of variations.
Of interest:
The term "Whitsunday" is a contraction of White Sunday, an English term used since the Norman Conquest (A.D. 1066) for Pentecost (50 days after Easter) when white vestments were worn by catechumens being baptized that day. One interpretation (John Mirk, 15th century monk) is that the root of the word was "wit" (wyt, wytte), signifying the wisdom of the Holy Ghost on Christ's disciples.
Please come join us this Sunday at 10:30 AM …. www.stmichaelsanglican.org