Musical Notes for Palm Sunday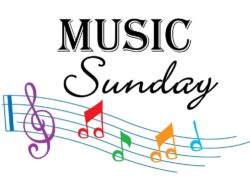 Music for Palm Sunday April 14, 2019
MUSIC NOTES:
Prelude      
All Glory, Laud and Honor                                                    G. F. Kauffmann
This hymn is a 19th century translation of part of a Latin poem written by Theodulph of Orleans (c.760-821) that has been used for Palm Sunday processions for centuries. Since the mid-19th century, it has been joined with the 1614 tune for the Lutheran hymn "Farewell I Gladly Bid Thee." The prelude on this hymn tune is by Georg Friedrich Kauffmann (1679-1735), organist-director for the Duke of Saxe-Merseburg, Germany.
Introit
(Psalm 22:19, 21) Be not Thou far from me, O Lord: O my strength, haste Thee to help me. Save me from the lion's mouth: and deliver me from the horns of the unicorns. (Psalm 22:1a,b) My God, my God why hast Thou forsaken me: why art Thou so far from helping me?
Offertory Sentence
(Psalm 69:20) Reproach hath broken my heart; and I looked for some to take pity, but there was none; and for comforters, but I found none.
Offertory/Postlude    Wondrous Love                                            Daniel Pinkham
This American hymn was first published in 1811, became well known after its publication in the 1835 book Southern Harmony by William Walker of Spartanburg, South Carolina. Daniel Pinkham (1923-2006), church musician and professor at the New England Conservatory of Music, wrote several variations on the hymn that reflect the simplicity of the original tune.
The Communion Hymn 63, "The Royal Banners" is the Latin hymn "Vexilla Regis" written in 569 as a processional hymn when relics of the True Cross were received at the monastery in Poitiers, France. Its author, Venantius Honorius Fortunatus, was a priest and bishop at Poitiers who is a major Latin poet of the period. The tune is contemporary with the poem.