Musical Notes for Easter Sunday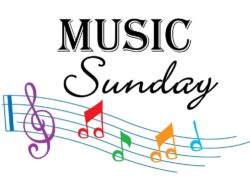 Musical Notes for Easter Sunday:
Our guest Trumpeter today is Mr. Vanderbilt Singleton.  He is a professional trumpet player from Columbia SC who received his undergraduate degree in trumpet performance from Winthrop University and his Masters Degree in Trumpet performance from the University of Alabama. He currently is a freelance trumpet player who has played with the Florence Symphony and the Carolina Wind Symphony and was selected to study trumpet at 2 international music festivals.
Music Notes:
Prelude        Jesus Christ is Risen Today    Mitchell-Wallace/Head
Introit
(Psalm 139:18b) When I awake, I am still with thee. Hallelujah.
(verses 5b, 6) Thou hast laid thine hand upon me. Hallelujah. Such
knowledge is too wonderful for me; it is high, I cannot attain unto it.
(verse 1-2a) O Lord, thou hast searched me, and known me. Thou knowest
my downsitting and mine uprising.
Offertory
(Psalm 76:8b, 9a) The earth feared, and was still, when God arose
to judgment. Hallelujah.
Anthem     Alleluia! Alleluia!    Sullivan/Shephard
Hymn 92, the poem by the Anglican priest/bishop Christopher Wordsworth
and tune by Arthur Sullivan (of "Gilbert and Sullivan" operettas) is
heard in an arrangement by Richard Shephard (b.1949), choral and opera
composer who is Chamberlain of York Minster and music faculty of the
University of York.
Communion Anthem   Festival Canticle: Worthy is Christ   Richard Hillert
"Dignus est agnus" (Worthy is the Lamb) first appeared in Lutheran
service books as an alternative canticle. The poet John W. Arthur
adapted this poem and created a new canticle in 1970, "Worthy is
Christ." Richard Hillert (1923-2010), former Concordia University
Chicago music professor, composed his setting of this canticle in 1976.
Postlude    Crown Him with Many Crowns    Mitchell-Wallace/Head
The Processional and Gradual Hymns are translations of the 6th century
Latin poem "Salve festa dies" by Venantius Fortunatus, an Italian who
became a French priest and bishop. This hymn has had various English
translations going back to that of Archbishop Cranmer in 1544 during the
time of Henry VIII.