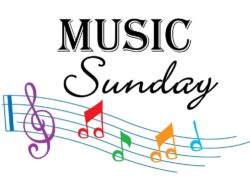 MUSIC NOTES
Nov. 15 Trinity XXIII   
MUSIC NOTES
Prelude         Dona Nobis Pacem     Anonymous
The Latin text is taken the end of the Agnus Dei (Lamb of God), possibly
introduced into the Mass by Pope Sergius in A.D. 687. The translation is
spoken as "grant us Thy peace" in the traditional English liturgy. The
tune, here sung by the choir in unison and as a canon (round), is of
unknown origin, possibly from as early as the 17th century.
Processional            Bishop's Promenade              N. Coke-Jephcott
Norman Coke-Jephcott (1893-1962) was born in Coventry, England, and
emigrated to the United States in 1911. He served as
organist-choirmaster in several Episcopal parishes, including the
Cathedral of St. John the Divine in New York (1932-1953). His
"promenade" is a majestic march in the style of an English trumpet tune.
Introit         Dicit Dominus.
(Jeremiah 29:11a, 12) Thus saith the Lord: I know the thoughts that I
think toward you, thoughts of peace, and not of affliction: ye shall
call upon me, and I will hearken unto you:
(Jeremiah 29:14a) and will bring again your captivity from every nation.
(Psalm 85:1) Lord, thou art become gracious unto thy land: thou hast
turned away the captivity of Jacob.
Gradual
(Psalm 44:8-9) It is thou, O Lord, that savest us from our enemies: and
puttest them to confusion that hate us. We make our boast of God all day
long, and will praise thy Name for ever.
Alleluia, alleluia. (Psalm 130:1) Out of the deep have I called unto
thee, O Lord: Lord, hear my voice. Alleluia.
The Sermon Hymn #532: In 1919, Hugh Richard Lawrie "Dick" Sheppard
(1880-1937), rector of St. Martin in the Fields (and later Dean of
Canterbury) asked the English playwright, writer and illustrator
Lawrence Housman (1865-1959) to write a hymn for a meeting of the Life
and Liberty Movement. The tune was composed in 1925 for this text by
Geoffrey Shaw (1879-1943), organist, composer of songs and choral works
and chairman of the British Broadcasting Company (BBC) school music
subcommittee.
Offertory
Psalm 130:1) Out of the deep have I called unto thee, O Lord: Lord, hear
my voice.
Anthem          Sing a New Song        Praetorius, arr. Schweizer
(Psalm 96:1-3) Sing a new song, sing to God with a voice of triumph.
Make his praises known to all the nations. Sing the honor of his Name.
Michael Praetorius (1571-1621) was an important musician and composer
from the late Renaissance to the early Baroque periods. A Lutheran, he
was court organist and Kapellmeister (Chapel Master) in Wolfenbüttel,
Germany. The choral arrangement of his canon (round) is by Mark
Schweizer (1956-2019) who lived in Tryon, North Carolina, where he was a
singer, composer, mystery series author, and the editor of St. James
Music Press.
Communion
(Mark 11:24) Verily I say unto you, what things soever ye desire, when
ye pray: believe that ye receive them, and and it shall be done unto you.
Postlude        Fugue in G minor        J. S. Bach
This fugue (compositional form based around a theme) is known as the
"little" (to distinguish it from a longer piece in the same key). Johann
Sebastian Bach (1685-1750) composed one of his best known pieces  while
he was organist (1703-1707) at Arnstadt in the Thuringia region of Germany.