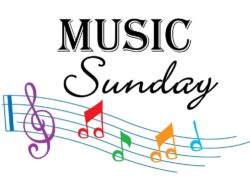 MUSIC NOTES
MUSIC NOTES
Prelude        Préambule                Louis Vierne
Vierne (1870-1937), born 150 years ago on October 8, was organist at Notre Dame Cathedral in Paris and is one of the significant 20th century organ composers. His preamble (introduction), from his 24 Pieces in Free Style (1913), contrasts organ foundation stops with a unifying theme.
Introit        Da pacem.
(Ecclesiasticus 36:16-17a) Give peace, O Lord, to them that wait for thee, and let thy prophets be found faithful: regard the prayers of thy servant, and of thy people Israel. (Psalm 122:1) I was glad when they said unto me: we will go into the house of the Lord.
Gradual
(Psalm 122:1) I was glad when they said unto me: we will go into the house of the Lord. (Psalm 122:7) Peace be within thy walls, and plenteousness within thy palaces.Alleluia, alleluia. (Psalm 102:15) The heathen shall fear thy Name, O Lord: and all the kings of the earth thy majesty. Alleluia.
Offertory
(Exodus 24:4b, 5b) Moses consecrated an altar unto the Lord, offering burnt offerings upon it, and sacrificing peace offerings: (Exodus 29:18) and he made an evening sacrifice for a sweet-smelling savour unto the Lord God, in the sight of the children of Israel.
    Organ        Complainte (Lament)             Louis Vierne
Vierne combines a pedal point (sustained tenor range pitch) with a contemplative theme. In addition, the use of an organ mutation stop contributes to the meditative atmosphere that is created.
Communion
(Psalm 96:8b-9a) Bring offerings and come into his courts: O worship the Lord in the beauty of holiness.
Postlude    Once More, My Soul          George Shearing
The poem for the first hymn during Communion (#156) was written in 1921 by Geoffrey Anketell Studdert-Kennedy, Anglican priest who was a British Army chaplain. The tune, known as Morning Song or Consolation, was published in 1813 in an American collection Wyeth's Repository of Sacred Music, a tune source of Southern shape-note collections. It has been used with many hymn texts, including "Once more my soul, the rising day" by the 18th century English hymn writer Isaac Watts. Sir George Albert Shearing (1919-2011), British jazz pianist, wrote his three organ variations combining traditional and jazz harmony.