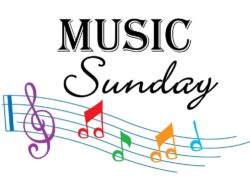 MUSIC NOTES
Prelude         Melodie         H. A. Matthews
Harry Alexander Matthews (1879-1973), an English emigre, was a music
professor and choral director at the University of Pennsylvania and
organist/choirmaster of St. Luke and the Epiphany Episcopal Church in
Philadelphia. His "melodie" is heard on the oboe and its mid-section on
the strings.
Introit         Exaudi, Domine
(Psalm 27:8, 11) Consider, O Lord, and hear me, when I cry unto thee: be
thou my succour, O cast me not away, neither forsake me utterly, O God
of my salvation. (Psalm 27:1a) The Lord is my light, and my salvation:
whom then shall I fear?
Gradual
(Psalm 84:9) Behold, O God, our defender: and look upon thy servants. O
Lord God of hosts: hear the prayers of thy servants.
Alleluia, alleluia. (Psalm 21:1) The King shall rejoice in thy strength,
O Lord: exceeding glad shall he be of thy salvation, alleluia.
The tune of the Sermon Hymn #437 (whose 1924 text by Mississippi lawyer
William Alexander Percy reflects the Gospel for today) was composed for
this poem in 1941 by David McKinley Williams (1887-1978). Unlike many
hymn tunes that have a regular meter, this tune has an irregular meter
(number of beats per measure) in order to match the rhythmic flow of the
poetry. Born in Wales, Williams spent most of his career in New York as
organist-choirmaster for 27 years at St. Bartholomew's Episcopal Church,
and as teacher at the Juilliard School of Music and Union Theological
Seminary.
Offertory
(Psalm 16:7a, 8) I will bless the Lord, who hath given me counsel; I
have set God always before me: for he is on my right hand, therefore I
shall not fall.
Organ           Choral (D minor)        W. D. Armstrong
William Dawson Armstrong (1868-1936) was an organ/choral/piano composer
from Alton, Illinois. In addition to serving as organist in several
denominations, he was music director of Shurtleff College and Western
Military Academy. The conclusion of his 1907 composition (whose
Recitative and Aria were heard last week) presents a hymn-like tune with
variations in the minor (offertory) and in the major tonality (postlude).
Communion
(Psalm 27:4) One thing have I desired of the Lord, which I will require:
even that I may dwell in the house of the Lord all the days of my life.
Postlude        Choral (D Major)        W. D. Armstrong
Cheers!
John