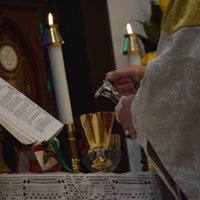 Sunday Eucharist July 7 2019
Service begins at 6 minute mark and the sermon at the 32 minute mark.  Our worship is reverent as we give all glory and thanksgiving to God.  You may have to turn up volume on video.  If you enjoy, please feel free to share.
Highlights: The parable of the lost sheep is focus of sermon…showing a loving God who will not quit on us…Union with Christ is also union with all those to whom He gives himself…the Shepherd is searching and calling for His lost sheep…it is not too late for us who are: lost, confused, angry, frustrated, or hurt. Fear not!