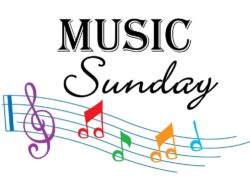 MUSIC NOTES
Prelude Voluntary in C                John Stanley
        Adagio – Andante – Slow – Allegro
John Stanley (1713-1786), although blind from his second year, was first appointed to his first organist position at age 11 and graduated at age 16 with a Bachelor of Music from Oxford University. He became organist at the Temple Church in London in 1734 and was appointed Master of the King's Band of Music in 1779. His voluntaries (instrumental music for church services) consist of several movements with contrasting tempos and organ registration (choice of stops).
Introit        Inclina, Domine
(Psalm 86:1a) Bow down, O Lord, thine ear to me, and hear me: (Psalm 86:2b-4) O my God, save thy servant that trusteth in thee; have mercy upon me, O Lord, for I have called daily upon thee. Comfort the soul of thy servant: for unto thee, O Lord, do I lift up my soul.
Gradual
(Psalm 92:1-2) It is a good thing to give thanks unto the Lord: and to sing praises unto thy Name, O Most Highest. To tell of thy loving-kindness early in the morning: and of thy truth in the night-season. Alleluia, alleluia. (Psalm 95:3) For the Lord is a great God: and a great King over all the earth. Alleluia.
Offertory
(Psalm 40:1) I waited patiently for the Lord: and he inclined unto me: he heard my calling, (Psalm 40:3) and hath put a new song in my mouth, even a thanksgiving unto our God.
      Organ        Meditation in D Flat                Eric Thiman
Eric Harding Thiman (1900-1975) was a musician who was mostly self-taught. In addition to his over 1300 choral and organ compositions (many for amateur musicians), he was professor at the Royal Academy of Music and dean of music faculty at the University of London. His first meditation (of three) from 1961 illustrates in its melodic and harmonic character the influence of English composers, such as Edward Elgar (1857–1934).
Communion
(John 6:51) The bread that I will give is my Flesh: which I will give for the life of the world.
The text of the Recessional Hymn #563 is taken from the 1684 edition of Pilgrim's Progress, a Christian allegory written by the English author John Bunyan while he was imprisoned for his preaching. The tune was composed in 1917 for this text by Winfred Douglas, the editor of The Hymnal 1940. He wrote that "the quaint sincerity of the words stirs us out of our easy-going dull Christianity to the thrill of great adventure." Due to the irregularity of the rhythm of the poetry, he composed the tune in a free irregular rhythm.
Postlude    Fanfare                      Noel Rawsthorne
Noel Rawsthorne (1929-2019), organist from 1955-1980 at Liverpool Cathedral, composed his fanfare using contrasting organ reed sounds with the organ Great Principals and Mixtures (multiple high pitched ranks).